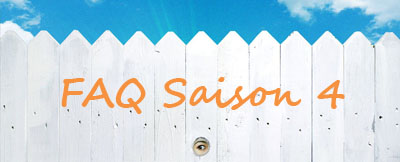 Pour le plus grand plaisir des fans, les scénaristes de la série ont acceptés de répondre à quelques questions que leur ont posés ceux-ci =) Si vous aussi vous souhaitez poser vos questions, envoyer leur un mail à: [email protected]

∞ ∞ ∞

∞ 08/06/10 ∞
With production for Season Four underway, many of you have sent in questions about what's going on... what's in store... and who will be returning to everyone's favorite small town.

Well, you've been patient. Now, it's time for some answers.

So without further ado, Eureka Unscripted proudly presents the first S4 installment of "YOUR QUESTIONS... ANSWERED!"


QUESTION #1: WHEN WILL SEASON FOUR PREMIERE?

Excited for new episodes, eh? So are we! Good news... Eureka Season Four will premiere Friday, July 9, 2010 here in the U.S. on Syfy.

QUESTION #2: CAN WE EXPECT TO SEE MORE OF TESS IN THE NEW SEASON?

Tess (Jaime Ray Newman) will indeed appear on Eureka this summer. But don't believe for a moment that Allison won't have a thing or two to say about it.

QUESTION #3: WILL ZOE (JORDAN HINSON) BE BACK THIS SEASON?

Yes! But not as a regular, since Zoe is now off at Harvard. In fact, perhaps the real question is... how has college changed her?

QUESTION #4: GENERALLY HOW MANY TIMES IS A SCRIPT DRAFTED BEFORE IT BECOMES THE ONE WE SEE AIR ON TV?

Hmmm. The answer to this can vary greatly, depending on a lot of different factors, the biggest of which is time. We'll keep rewriting a script to make it the best we can right up until shooting starts.

In general, there are three major drafts of a script before it goes to camera. The first is the writer's draft, which is then revised based on notes from the rest of the staff. This brings us to the network draft, and the notes we get from our executives ultimately translates into a production draft... aka the shooting script. But there are always tweaks along the way, even after this point. Mostly they're to address production concerns (budget and location limitations) or to polish dialogue before the cameras roll.

QUESTION #5: WHAT HAPPENED TO ALLISON'S SON, KEVIN? WHERE HAS HE BEEN?

We love Kevin just as much as you do! Don't worry, he's still around. And you'll be seeing more of him in the upcoming season.

QUESTION #6: WHAT SHOWS DO THE EUREKA WRITERS AND PRODUCERS WATCH?

We watch and enjoy a wide variety of shows currently on air. Most of us are big sci-fi TV fans, so we love DOCTOR WHO and fellow Syfy summer series WAREHOUSE 13. A straw poll of the folks on the writing staff identified favorites such as FRIDAY NIGHT LIGHTS, BIG BANG THEORY, BREAKING BAD, AMERICAN IDOL, DEXTER, MODERN FAMILY, FRINGE, MYTHBUSTERS, HIGH STAKES POKER, and the list goes on...

QUESTION #7: DO YOU HAVE A PARTICULAR ACTOR IN MIND WHEN YOU WRITE A GUEST CHARACTER, OR DO YOU WRITE IT AND TRY TO CAST SOMEONE TO FIT THE PART AFTER? OR DO BOTH HAPPEN?

We write what the story dictates, and then try to find the perfect actor for that role. Fortunately, we've been lucky to attract some wonderfully talented guest performers for our show, especially this season.

QUESTION #8: ARE THERE ANY NEW CHARACTERS JOINING THE SHOW IN SEASON FOUR?

There a few new faces on the show this year. Among them is James Callis (Baltar from another one of our favorite shows, BATTLESTAR GALACTICA), who joins us for a long arc as Dr. Charles Grant.

QUESTION #9: WHEN YOU'RE WRITING A SCRIPT, WHAT'S THE BALANCE OF DESCRIPTIONS VS. DIALOGUE?

If you're looking for an actual percentage, it's hard to say. Every episode demands something different. But generally speaking, TV scripts have more dialogue than they do "action lines" -- this is because in television you're not creating a new world every week. You live with the same people, and you have regular sets that you visit. So there's no reason to be ultra-specific in your descriptions. You have a cast who own these roles and don't need be told how to play something. And you have a production team that you trust, who can meet your needs given only minimal details.

QUESTION #10: ANY CHANCE WE'LL SEE SOME STARGATE SG-1, STARGATE ATLANTIS, OR STARGATE UNIVERSE ACTORS IN EUREKA?

Well, we've already seen Michael Shanks (212 - "All That Glitters..."), Lexa Doig (211 - "Maneater" & 303 - "Best in Faux") and Teryl Rothery (210 - "God Is In The Details") from STARGATE SG-1. So while we can't promise anything, it's certainly a possibility that someone may pop up in season four.
WELL... THAT'S IT FOR NOW!

But keep sending in those questions to [email protected] and look for more answers... SOON.